Vision: Popularity in Heaven
2 min read
Popularity in Heaven is based on sanctity, not worldly power. The holier you are, the more Saints want to congregate with you.
The Blessed Mother is the crown of crowns of Sanctity. All Saints want to speak to her, see her and be in her presence. Of course, Jesus is most important of all.
"We never give more honour to Jesus than when we honour his Mother, and we honour her simply and solely to honour him all the more perfectly. We go to her only as a way leading to the goal we seek – Jesus, her Son."

St. Louis Marie de Montfort; True Devotion to Mary, #94
Having talents does not hurt as the saints will consult with the doctors, absorb the wisdom of the fathers and seek the blessings of the Apostles.
The various degrees of glory will be according to the various degrees of charity.

St. Thomas Aquinas, Summa Theologica
Music & Entertainment
There are Catholic music concerts where they play even current Contemporary Catholic, traditional and ancient songs. Even comedians of pure words, actors of charity, and dancers of chaste routines take the stage.
Sometimes the royal family will even contribute to the entertainment playing lyres, trumpets, harps guitars or pianos. Who is there with ears to listen? Are there not just souls with bodies and a few others (Blessed Virgin Mary, Moses, Elijah, Enoch)?
10s of thousands were resurrected with Jesus (as the Gospels state). So the are plenty about to hear. The festivities are manyfold. However, there is a joy of holiness and spirit, unlike the evil that sometimes happens on Earth.
Being an actor, musician, theologian, philosopher or scientist is of great worth as long as your work conforms to Christ. Sometimes Heaven becomes a vault of learning with such great wise minds in it giving lectures on various topics.
Joshua the son of Nun was full of the spirit of wisdom, for Moses had laid his hands upon him.

Deuteronomy 34:9
Contemplation
All fall silent for worship. The Vault of Heaven is decorated with simple white columns braced with ornate gold feet and heads. The banners of various Saints hang from the high ceiling. Banners of blue and gold for Marians, red and gold for martyrs and, white and gold for the pure of heart in life.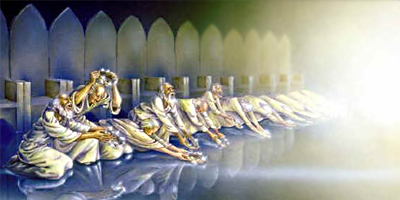 Torches of gold, silver, and platinum are secured in like sconces for the Canonized Saints who dwell among them. Amongst the Saints (perfect), the simple unitives (least perfect) in life have silver, the ecstatic unitives (middle perfect) have gold and the platinum for transforming unitives (most perfect; for all see Spiritual Passages by Fr. Benedict Groeschel).